29 years before Israel was founded, Jewish Congressman Julius Kahn (R-CA4) advocated against forming a Jewish state, arguing four main points. Here's how his four points hold up (or don't) today.
First — It creates a divided allegiance, as between our country and its Stars and Stripes and Zion with its white flag with the blue star. The Zionists, even in this country, are bent upon following their flag. The real American Jew knows but one flag, the Stars and Stripes. The American Jew sings "The Star-Spangled Banner" as his national anthem. The Zionist sings "The Hatikvah" as his.
This argument doesn't hold much weight in 2019. It's become clear that supporting America and supporting Israel is not an either-or proposition.
Second — The Zionist doctrine is in conflict with our own free institutions. The Zionists believe in the foundation of a Government which shall embrace both Church and State. That is not in keeping with the trend of modern statecraft anywhere. In that respect Zionism is decidedly reactionary. Besides, the Jews of Palestine are a small minority of the population. Will the other people who live there consent to domination by this minority?
I'm not certain what the demographics of Israel were in 1948, but now it's 74.3% Jewish — the opposite of a small minority. Have the other people "consented" to such domination? Not exactly. The country is rife with strife and violent attacks such as suicide bombings occur with some level of regularity. As for the idea that Israel would not respect a separation between religion and state, there's some merit there: just look at this 2018 law declaring that only Jewish people have a right to self-determination.
Third — There is the practical objection against the huddling together in a confined territory of enormous numbers of the Jewish people. As every one [sic] knows, Palestine is small; it could never support the millions of Jews who live in countries where Jewish persecution is a matter of common occurrence. That huddling together has had a baneful effect in Russia, Rumania [sic], Galicia, and Poland. The result would be a continuance of these disadvantages in the proposed new home.
Israel does in fact support million of Jews — about 6.6 million of them to be exact. And Israel only has the world's #31 highest population density.
Fourth — The greatest danger to the Jews in all those countries where they are on an entire equality with every other class of citizens is that, with the establishment of a separate Jewish State, they would be looked upon as aliens where today they are respected citizens. They would frequently be told to go to their own country, Palestine, by those agitators and fanatics who have a hatred of the Jew in their hearts.
With the exception of maybe a few extremists, this prediction has not been borne out.
So with a century of hindsight, Rep. Kahn's arguments probably go 1 for 4.
Perhaps Kahn's arguments may have had some level of credence at the time, but they didn't stand up to scrutiny after Adolf Hitler attempted "the final solution" in the Holocaust. Three years the end of World War II, Israel was founded in May 1948.
A 2018 Gallup poll found American support for Israel at 74%, tying the previous high recorded in 1991. However, a YouGov poll found that the support level is highly polarized: 65% of Trump voters see Israel as an ally, compared to 29% of Clinton voters.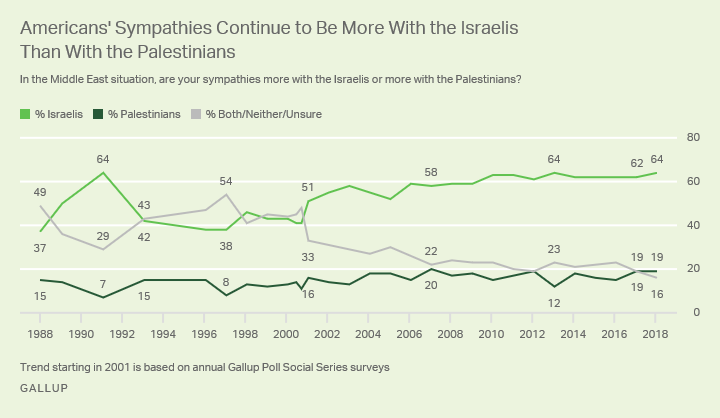 And if Julius Kahn couldn't support Zionism, surely he could at least support Zion Williamson:
Why Most American Jews Do Not Favor Zionism: Their Allegiance to This Country Is the First Reason, and They Object to a Union of Church and State in Palestine or Elsewhere
Published: Sunday, February 16, 1919