Weeks after women gained the right to vote, a satirical column predicted a future female president since "Millions of us men will be compelled to vote for her with the threat of losing our home-brewed meals if we don't."
In 1920, the country was still 12 years away from its first elected female senator, Hattie Wyatt Caraway of Arkansas, and a full 54 years away from its first elected female governor, Ella Grasso of Connecticut. With such concepts laughable at the time, this column suggested a female president "will commemorate the triumph of the soprano over the baritone."
The column also suggests that a female president would care little for any policies beyond "women's issues," with the leader taking "the oath in which she will promise on her sacred impulses to love, honor, and obey the Nineteenth Amendment to the Constitution and the rest of the document if the plot suits her."
After all:
Nothing is too fantastic or improbable for the mind of woman. This constitutes her grandeur. She is a poet. She waves facts aside with the same disdain that a male Congressman waves aside intellectual honesty.

What she feels constitutes the truth. Historical facts are of no more importance to her than last year's hat bill. Justice is getting what she wants. Logic is a mere instrument to prove the invulnerability of her prejudices.
The author also implies that men would vote for the first female presidential nominee against their will because "Millions of us men will be compelled to vote for her with the threat of losing our home-brewed meals and other things if we don't.
In fact, the opposite occurred. In 2016, when the first major-party female presidential nominee ran in the form of Hillary Clinton, the gender gap in candidate preference was the widest in the history of the polling dating back to 1972, at 24 percent. Men, clearly, didn't care about the possibility of losing their home-brewed meals.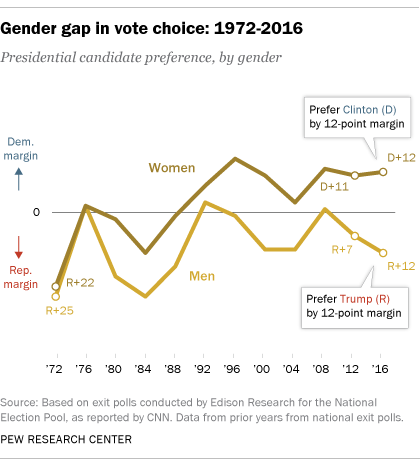 The First Woman President
Published: Sunday, September 5, 1920