As women gained the right to vote in 1920, should they be partisan or independent? Two women debated the issue in the New York Times: Republican Henrietta Wells Livermore for women's partisanship vs. Democrat Katrina Ely Tiffany for women's independence.
Livermore:
Women are not primarily office seekers. Therein lies their value in a political organization. They can sit on political committees and lend their efforts toward shaping the principles which will be followed by the members of the party. Without affiliation, the way is long and roundabout. With affiliation, they can strike their blows where they will do the most good.
Tiffany:
Women are a new force in the political life of the nation. Some men recognize that fact; others do not. Until all of them, or at least a majority of them, do, it is foolish for them to insist upon women's loyalty to a program with which they have had nothing to do. No political party should depend on the entire loyalty of its women members if they have not had a voice in shaping the platform of the party and helping to select the candidates.
In recent years, women seem to be acting more according to Livermore's position.
In 1994, female voters leaned more Democratic than Republican by 6 points; by 2017, that was up to 19 points. And female voters voted for Hillary Clinton over Donald Trump by 15 points.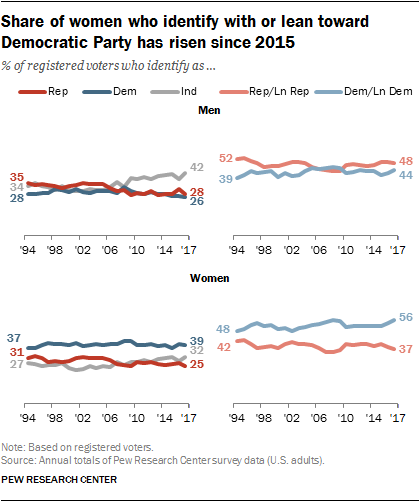 Shall Women Practice Party Regularity?: Opinion Among Suffragists Is Divided, Some Maintaining That Independence Would Be More Effective as a Political Factor — Four Types Among the New Acquisitions as Voters
Published: Sunday, March 7, 1920